FC-5000
RUGGEDIZED FIELD COMPUTER
                                                         Ready for the Outside, Powered from Within

• Sunlight readable 7 in. display
• Intel® Atom™ Z3745 processor
• MIL-STD-810G and IP68 certified
• Windows® 10 operating system
• 8 MP rear camera, 2 MP front camera
• Integrated 4G LTE cellular module (optional)
                                                       Multiple technologies deliver power and versatile control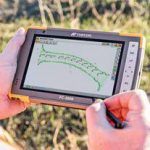 Starting with its handy 7-inch display specifically designed for visibility in direct sunlight, the FC-5000 field computer is built with your productivity in mind. When the day's weather throws you a new challenge, stay productive and in control using exposed fingertips, gloves, or even a small tipped stylus that is optically bonded to increase sensitivity even while working in the rain.
In addition to a field-ready IP68 environmental rating – which protects against dust and allows the unit to be waterproof at a one meter depth for up to two hours – the FC-5000 is independently certified as MIL-STD 810G, capable of operating in temperatures from -20°C to 50°C.
The unit is built for speed with an Intel® Atom™ Z3745 processor that drives any Topcon software with ease and is ready to work with your large design files. Ideal for grade checking with Pocket 3D and for survey related projects using MAGNET® Field data collection software.
As field measurements are made, MAGNET Field software provides the ability to use the integrated digital cameras to capture unlimited photo notes and automatically tag initial locations. Once a MAGNET Field job file is uploaded to
MAGNET Enterprise, project managers and office staff have instant access for                                                                                      coordination including visual verifications within your private Company Account.
Stay connected, productive, and in control with the Topcon FC-5000 field                                                                                           computer.
Expand your horizons
Topcon's exclusive LongLink™ communication technology is built into the FC-5000 and provides the ability to connect and drive Topcon total stations and GNSS receivers wirelessly out to 300 meters.
MAGNET Field
                                                                  The data collection portion of the

MAGNET system that is purpose-built to get the most out of all Topcon hardware products as well as instant data exchange through MAGNET Enterprise web services.
MAGNET Enterprise
A secure web service that acts as the central hub of the entire MAGNET system, MAGNET Enterprise keeps project managers informed and focused on time and money.
Pocket 3D
From simple grade checking to complex road design layout, this proven construction software solution is the connected compliment to 3D-MC software within Topcon's machine control systems.
Collect, Connect, and Conquer
The common thread among all location based projects is change. Therefore, stay current and in control with secure connectivity to either MAGNET Enterprise or Sitelink3D web services – data transfer is instant and easy.
Hardware
CPU
Intel® Atom™ Z3745 Processor
OS
Windows® 10
Memory
4 GB LPDDR3 RAM, SD slot, user accessible
Display
7 in. Sharp screen, Wide XGA at 1280 x 800
GPS
Type: uBlox NEO M8M
Accuracy: 2-5 m
Channels: 72
Update Rate: 5 Hz
Camera
Rear: 8 megapixel with
LED Illumination
Front: 2 megapixel
Wireless Connectivity
Bluetooth®
Long-range Bluetooth
Smart Ready wireless
technology, v4.0 +EDR,
Class 1.5, BLE support
Wi-Fi
802.11 a/b/g/n
2.4 GHz and 5 GHz
Cellular (optional)
Internal GSM 4G LTE
Environmental
Water/Dust Rating
IP68 certified
Operating Temp
-20ºC to 50ºC
Temperature Shock
MIL-STD 810G
MIL-STD 810G
Drop 4 ft. (1.2 m), vibration,
humidity, tumble spec:
1,000 1.6 ft. / 0.5 m
tumbles (2,000 drops)
Dimensions
13.71 x 3.45 x 21.5 cm
(l x w x h)
Operating Time
Up to 15 hours
(5 hours internal batteries,
10 hours with swappable
batteries)