RL-SV2S
Multi-purpose Construction Laser
• Long range operation (800 m)
• Horizontal, multi-slope and vertical applications
• Up to 120 hours battery life
• Tough IP66 construction rating
• Included remote control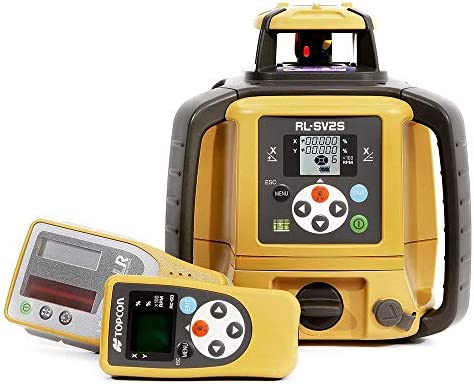 Multi-use applications
Designed for a variety of tasks, it can be used for horizontal, sloping and vertical laser applications. Slopes up to ±5% can be used in either the X or Y axis. Turn it on its side and use it for layout and alignment jobs.
High powered
With an operating range of over 800 m (diameter) the RL-SV2S has the power to cover even the biggest projects.
Long battery life
Contractors who want a laser with a long battery life will love the RL-SV2S. With an operating time of 120 hours on alkaline batteries or 65 hours with                                                                                                                                the rechargeable Ni-MH battery pack, this laser                                                                                                                                    will still be working long after others have quit.
All weather dependability
With the IP66 rating, the RL-SV2S is "jobsite tough" and can withstand dust, a sudden shower and even torrential rainfall.
Kit Components
• RL-SV2S Laser • RC-60 Remote Control
• LS-80L Sensor
• Sensor Holder
• Batteries
• Charger
• Carry Case
Five year guarantee
The RL-SV2S laser comes with a Five Year Guarantee. Topcon is backing up this reliable, accurate laser with the best factory warranty in the industry.
Specification
Accuracy
H: ±10 arc seconds
Self-Leveling Range
Horizontal ±5°
Grade
Dual, ±5%
Working Area
800 m (diameter)
Rotation Speed
300, 600 rpm
Dust/Water Rating
IP66
Operating Temp.
-20ºC to 50ºC
Operating Time
Alkaline: 120 hours,  Ni-Mh: 65 hours